First for
design.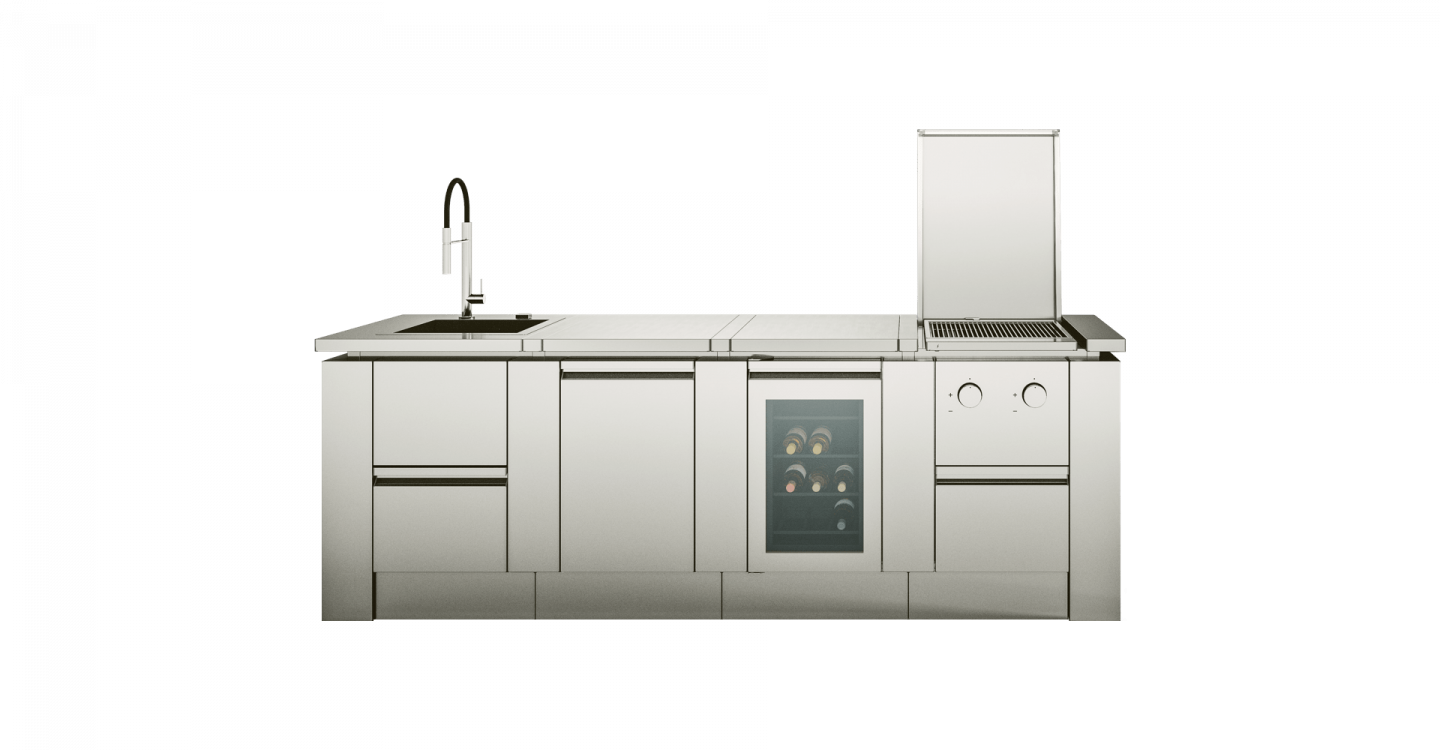 R1 is the first outdoor kitchen we made and the most advanced. It comprises a variable number of stainless steel modules with different functions, based on a frame made particularly solid by the patented Rok fixing system. The specially designed corners do not require welding, ensuring they are resistant to oxidation and are suitable to remain outdoors even without shelter.
Two cooking modes for an infinite number of preparations
R1, with its 2 7.4KW burners and gas grill, is the ideal companion for grilling food. Pair it with the induction hob to create a complete, versatile, and safe cooking system.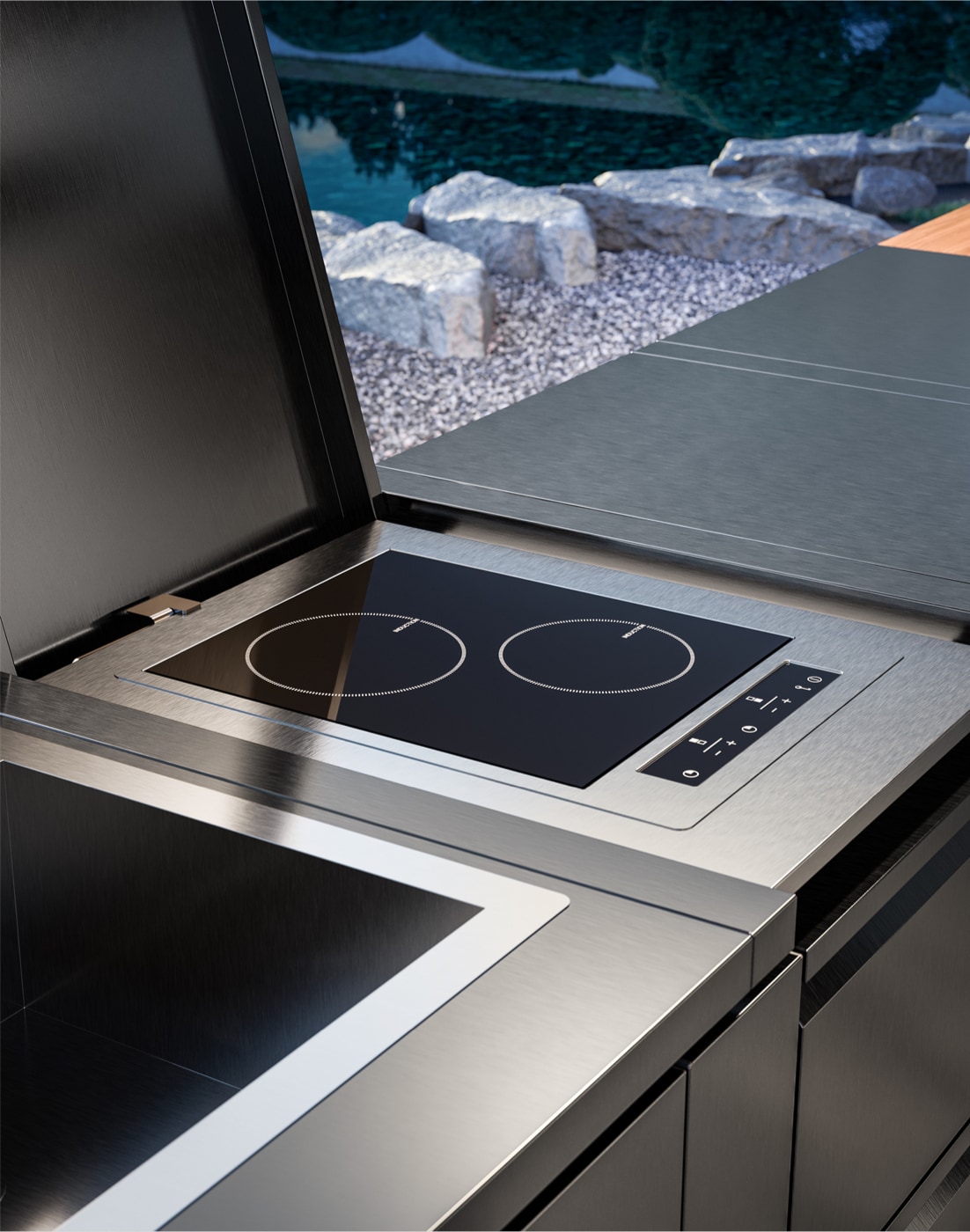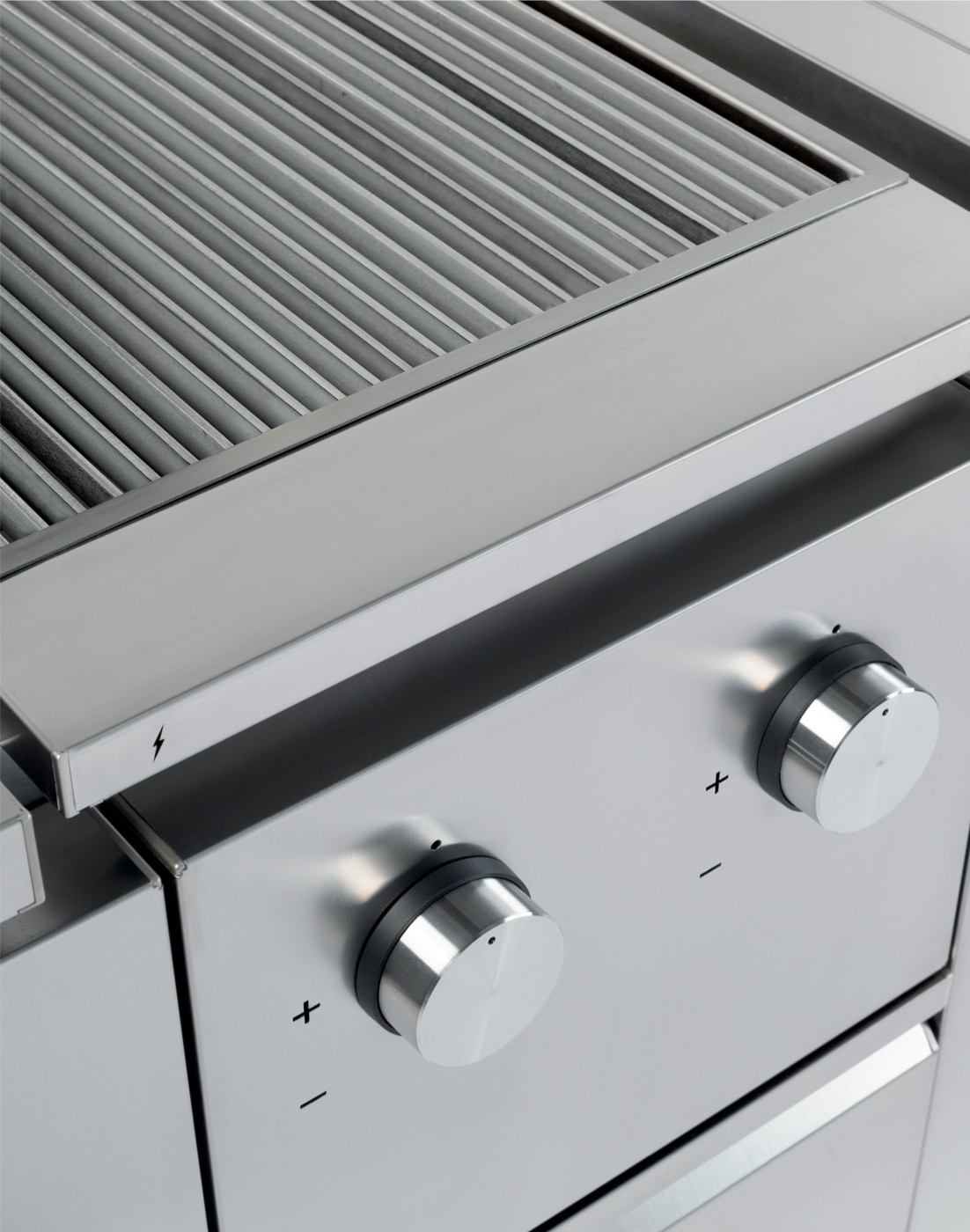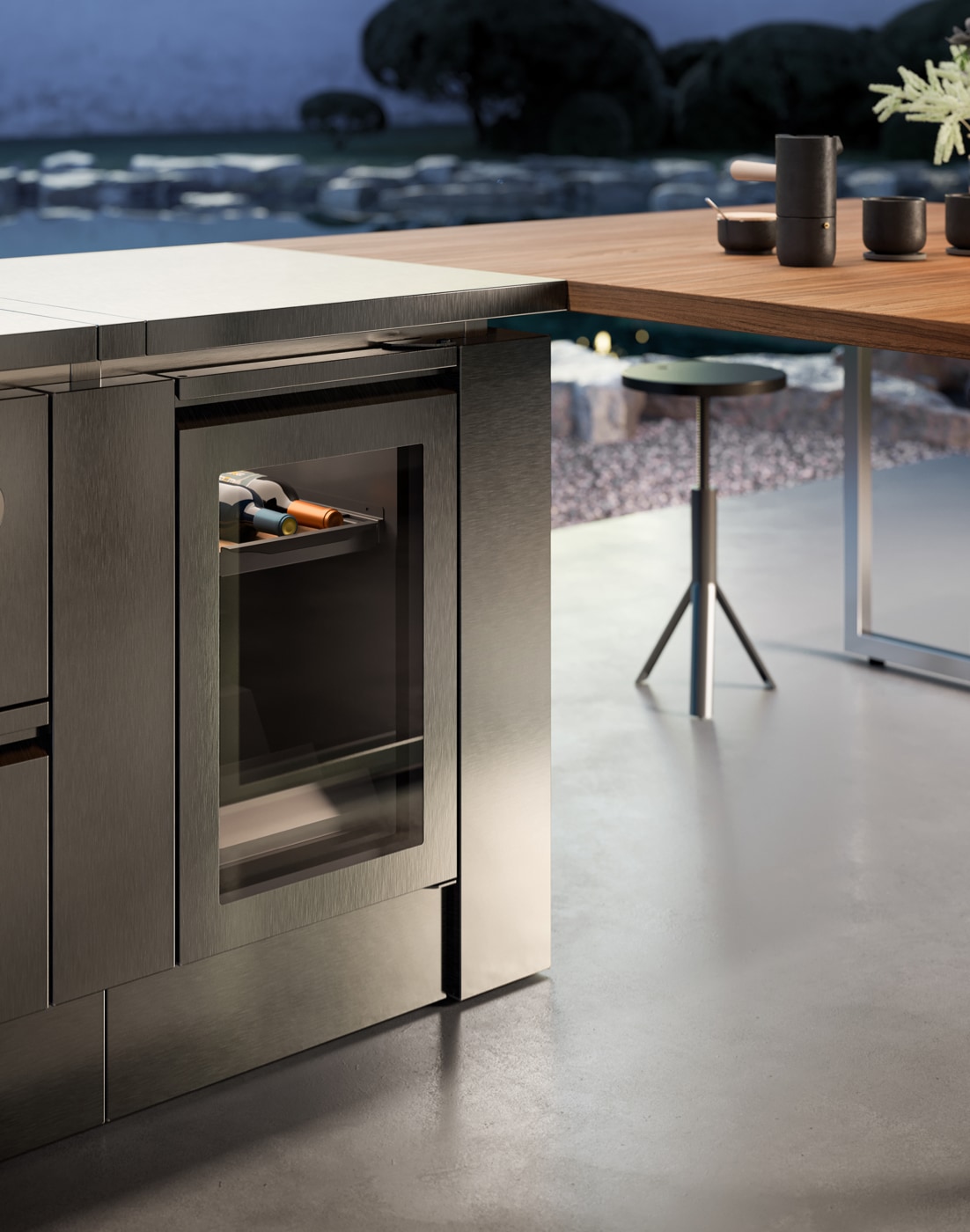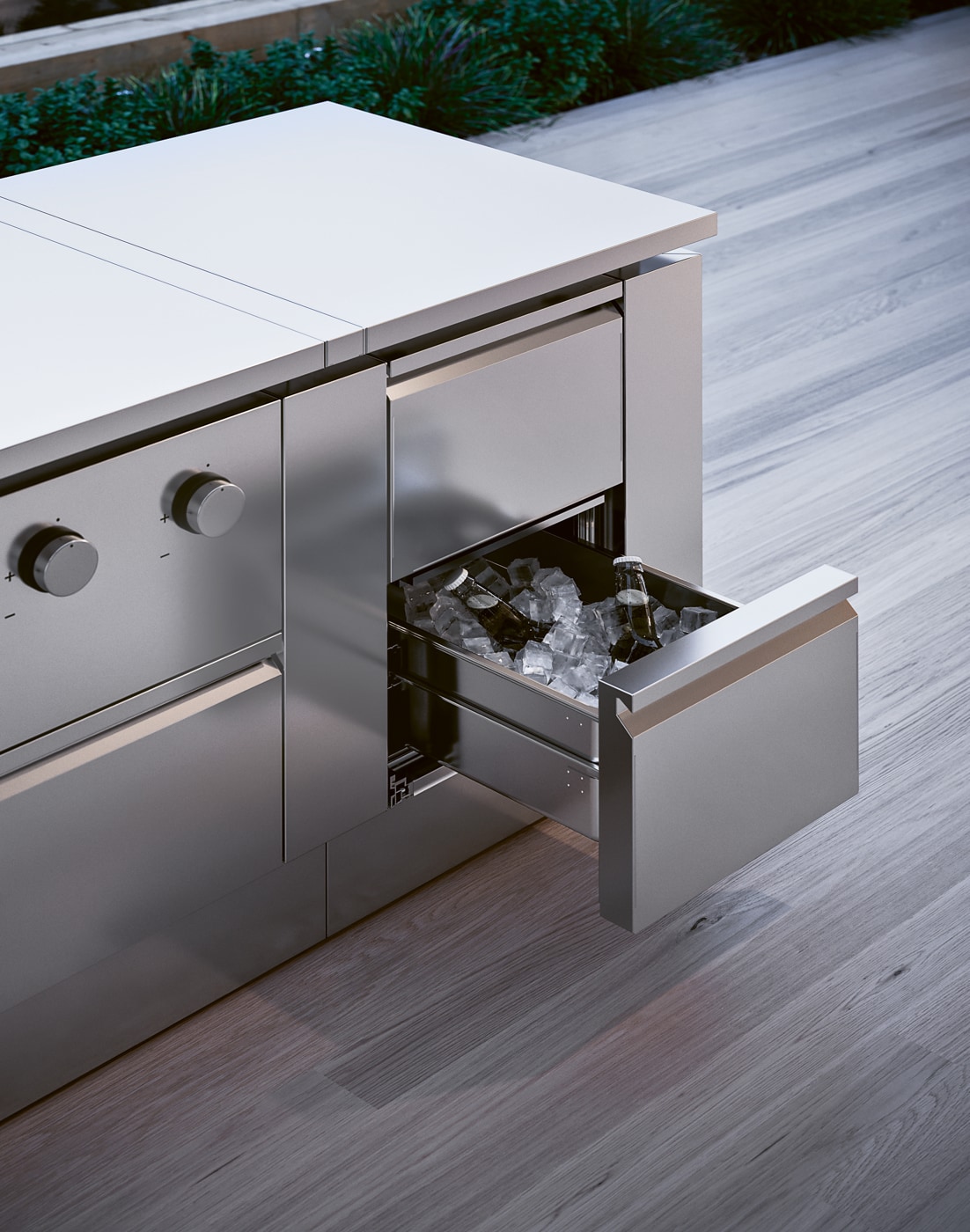 Safe and sound
Each module is equipped with the revolutionary ROK cell, which consists of watertight containers and a magnetic-close drawer, thereby allowing you to keep your hot and cold food at a constant temperature and protect it from external agents.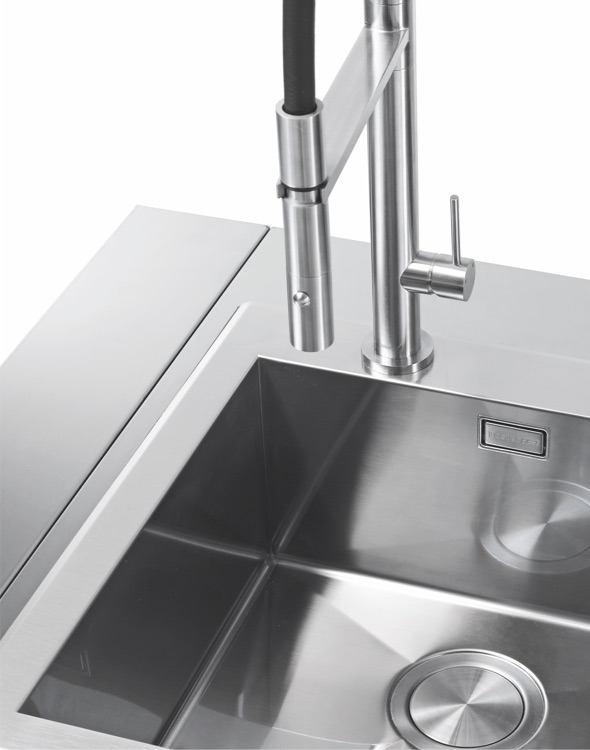 All the versatility
of a real kitchen
And it's not just about cooking… A real cooking station requires a sink too. This professional stainless steel sink with a pull out spray mixer tap transforms your cooking station into a multi-purpose work area. Once closed, the induction hob and grill covers become a practical stainless steel worktop designed and tested to last over the years.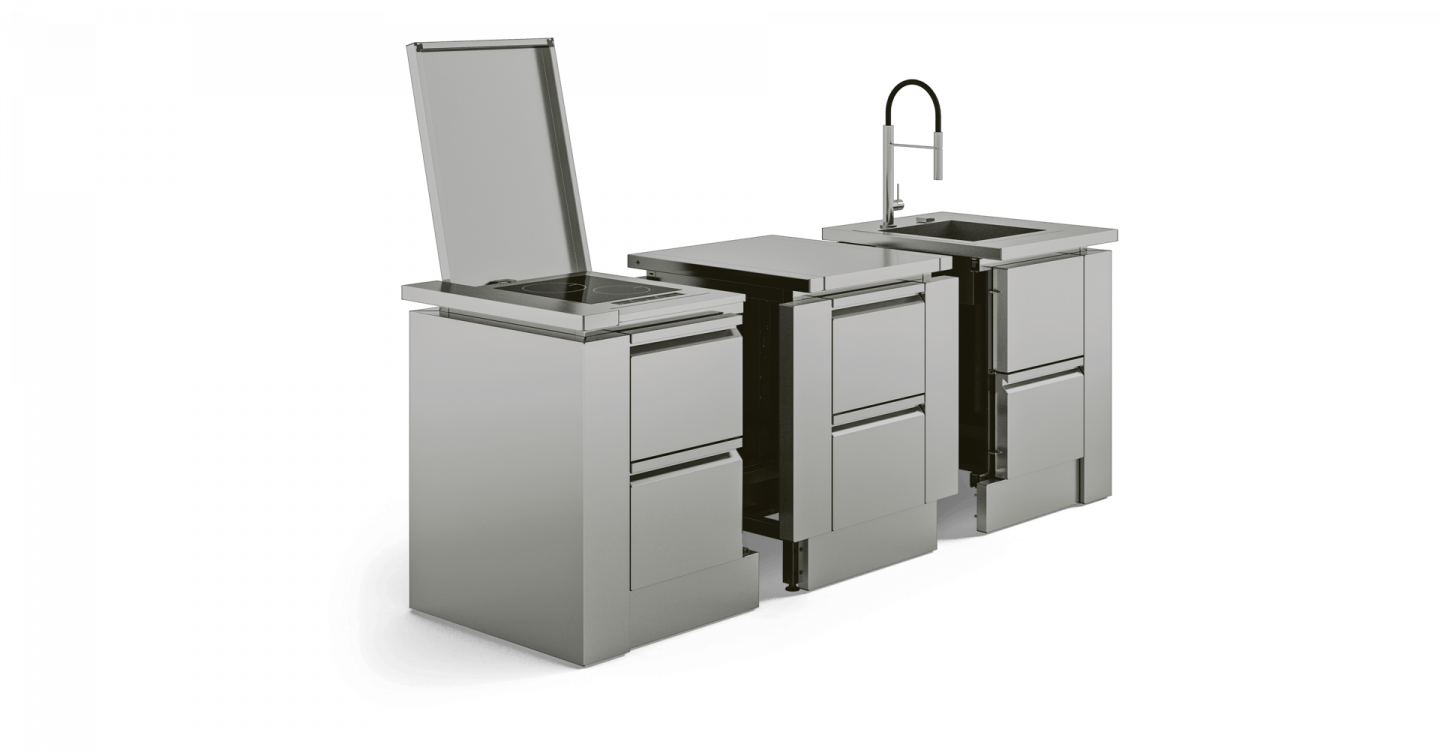 To revolutionise is to destroy conventionally
accepted principles. Instead of the traditional system
with adjacent modules, ROK has devised an interlocking
stainless steel frame made up of 3 main elements:
a start module, a middle module, and an end module.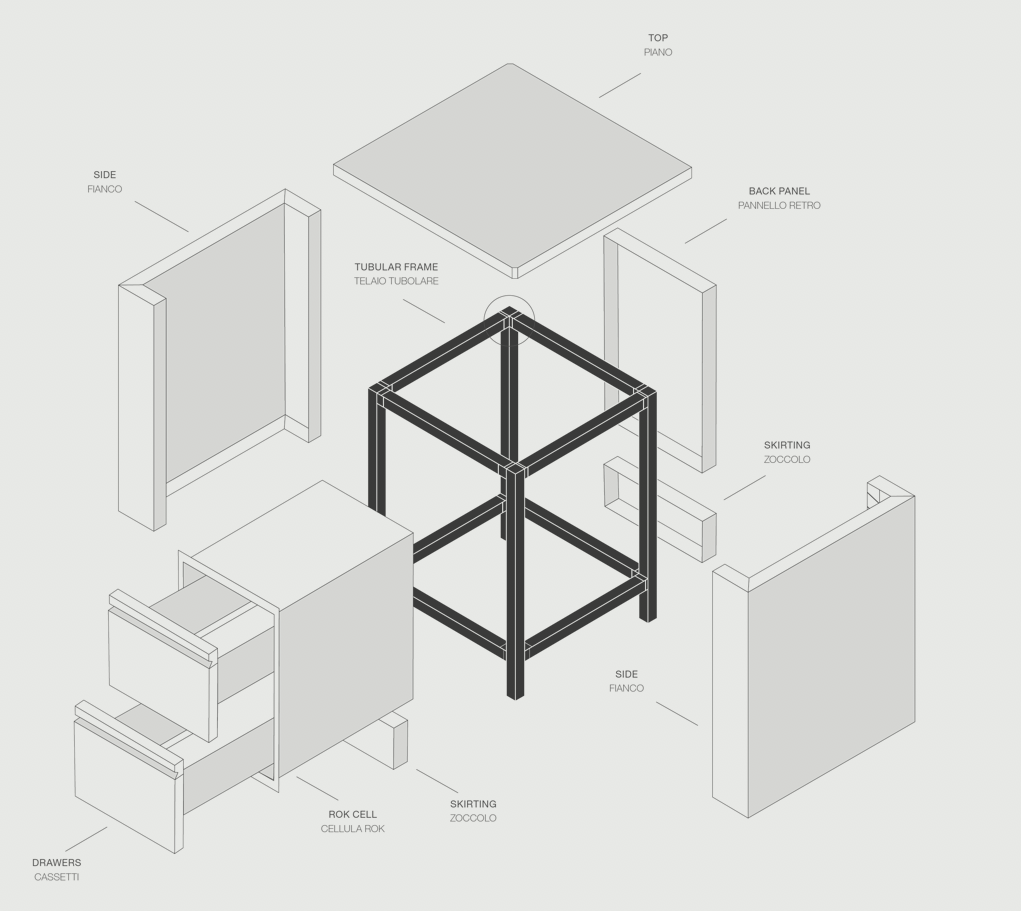 Everything starts
from a cell.
Each module is based on a cell with magnetic drawer closure
that seals it hermetically, preventing the entry of any extraneous bodies.
The temperature is kept constant inside: cold, warm, or ambient temperature depending
on the food being stored. Simply by pouring in ice or hot water it is possible to keep
bottles cool or freshly cooked food warm without the need for electricity.

One module,
infinite solutions.
Linear or L shaped, compact or extended, with all the necessary functions:
the R1 modules combine together in countless variations. Starting from a single module,
it is possible to enjoy the experience of cooking in an indoor kitchen in the open air,
with the additional advantage of simple installation: all the combinations
can easily be assembled on site.
Steel triplet
Classic stainless steel, elegant black, trendy bronze:
R1 is available in three finishes to adapt
to the most diverse architectural contexts.
Stainless steel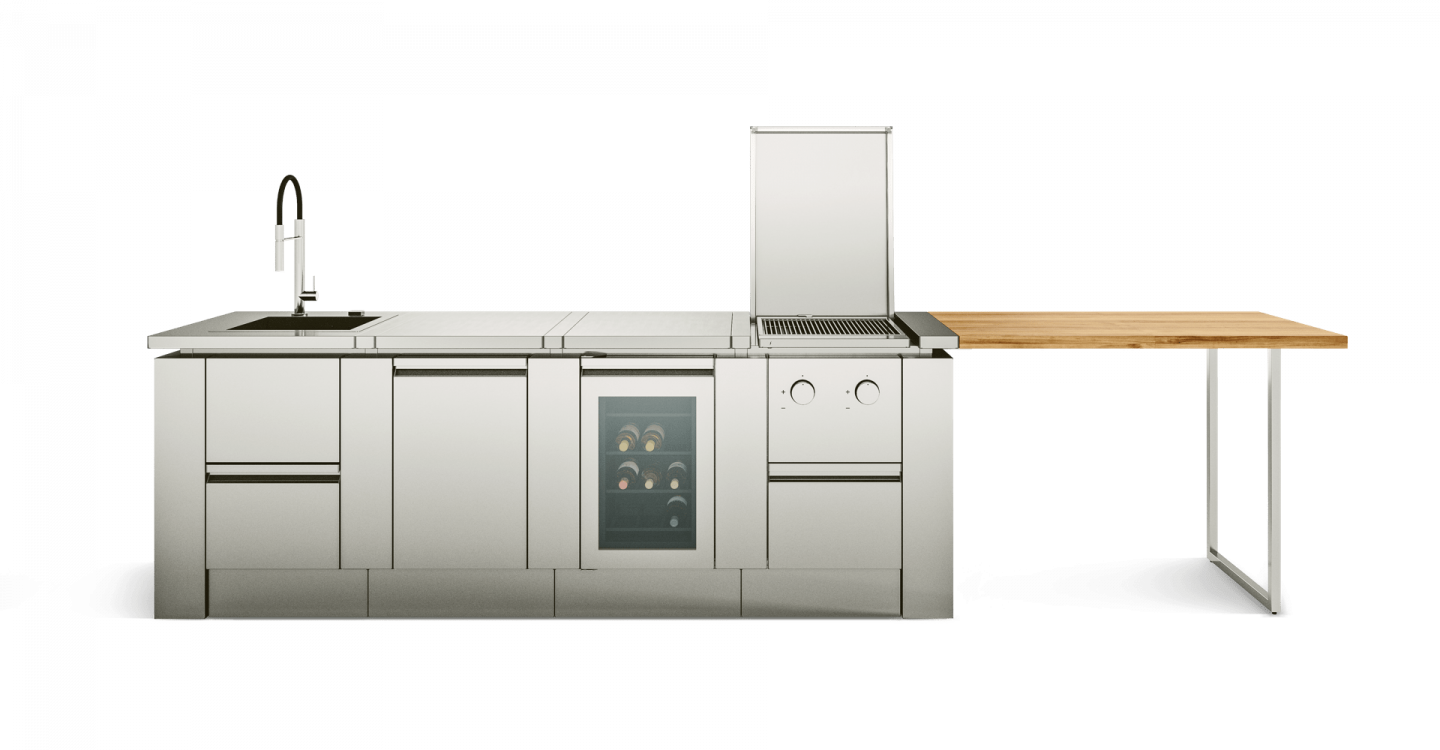 Bronze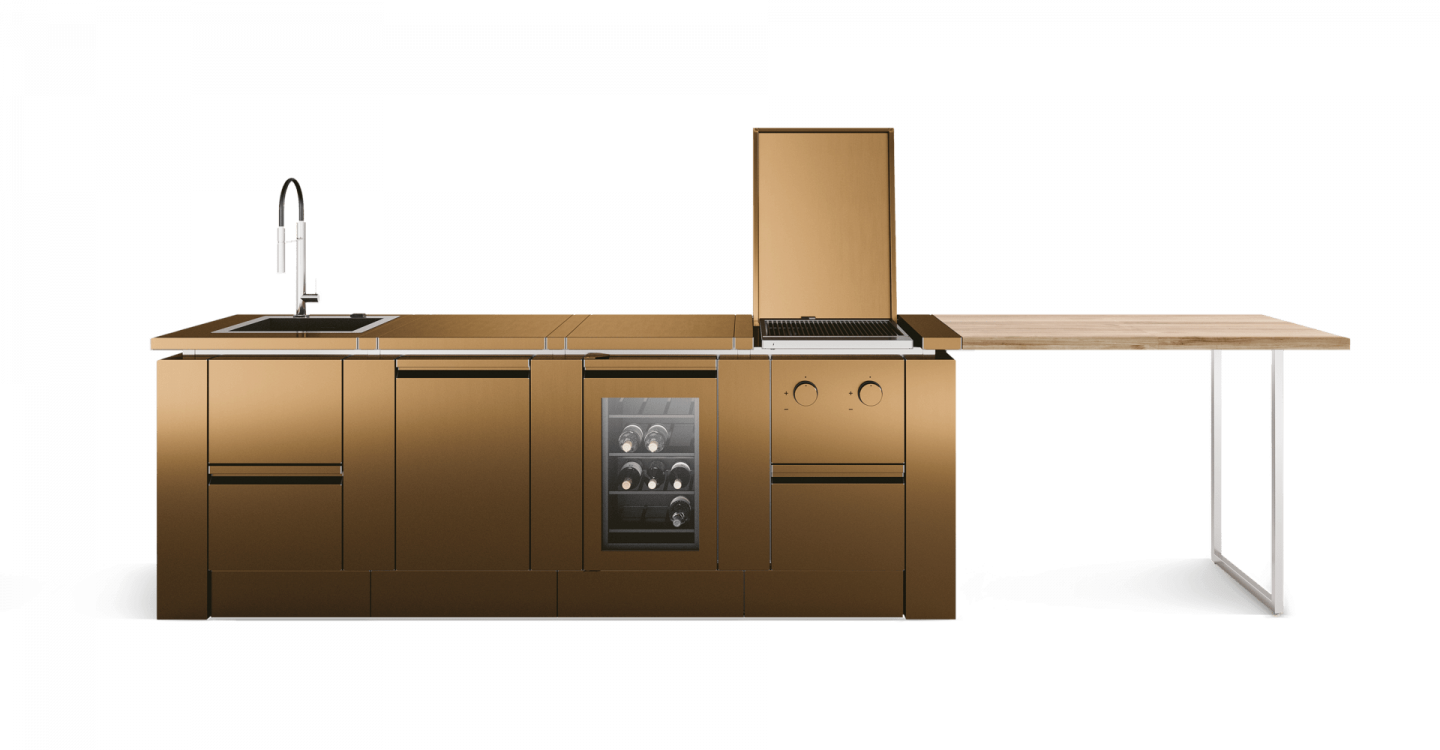 Black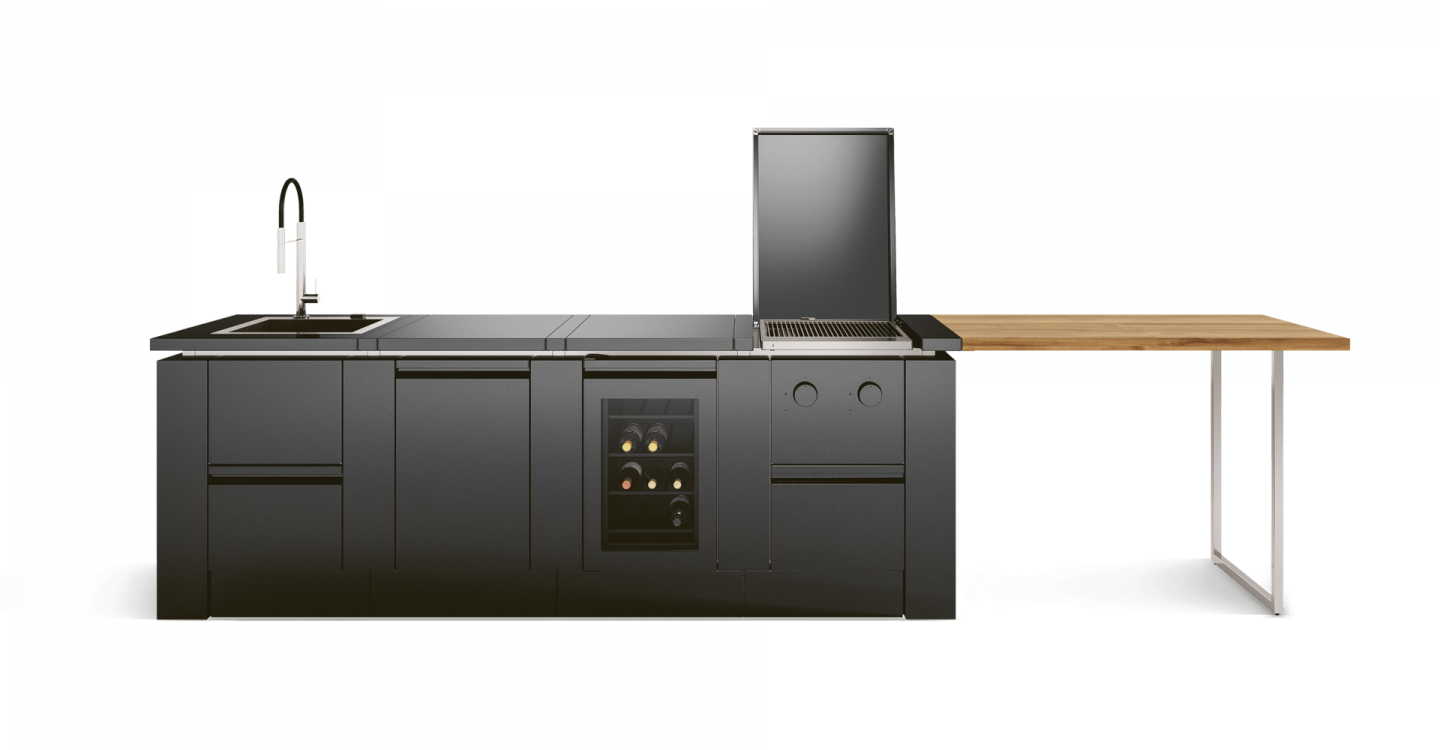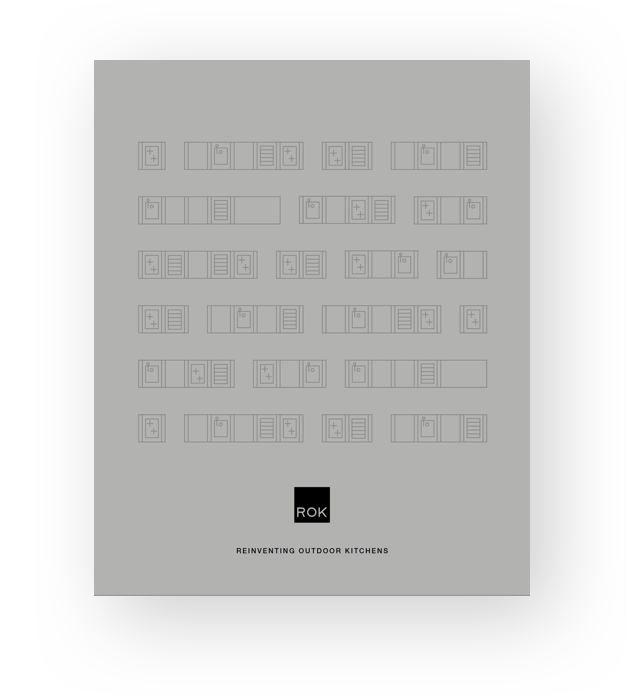 Reinventing outdoor kitchens
Browse the new Rok catalog and discover all the details of our products.
Download catalog